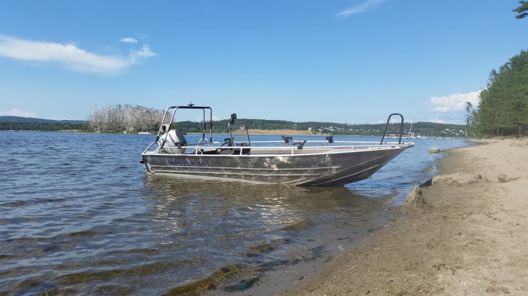 MASTER 500 is, in common with other Master Boats Aluminium boats unsinkable. An excellent boat for the family vacation at the lake, fishing, hunting, scuba diving or water-skiing as well as for those who need a stable boat in service. Planing located on low 7 knots which makes it possible to use a wide speed range and adjust your speed to the conditions. Provides excellent fuel economy. With a Master's no problem to go ashore where you want no matter what the terrain looks like.

MASTER 500 is certified in the CE class C (Inshore up to 13.9 m / s and 2 m wave height)

FACTS
Height: 5.27 m
Width: 1.74 m
Bottom Angle: 12.0 °
Weight without engine: 305 kg
Bearing capacity 375 kg / 5 pers
Engine: Honda 50 hp 4-stroke
County Administrative: Yes, automatic bilge pump
CE Class C
Trailer: Yes, max speed 80 km / h

STANDARD EQUIPMENT

Steering wheel, control cable, control console with large windscreen, targa, lanterns with switch, main switch, shark fin bow, grab rails, fenders and stern, fixed trim tabs, swim ladder and automatic bilge pump.